Sexual Assault Awareness Month (#SAAM), a national awareness campaign, operates in April month to end sexual harassment, assault and abuse every year. April 2023 is highlighted officially as the 22nd anniversary of SAAM and the theme of this month is 'Drawing Connection: Prevention Demands Equity'. Every year strategies are made tirelessly to organise an event on a great level by mobilising groups and coalitions. This month, altogether businesses, agencies, rape crisis centres, territories, and institutions make our society aware and enhance visibility towards Sexual Assault or sexual harassment.
Advocates, courageous survivors, loved ones and supporters raise their voices against cruel physical practices, sexual abuse and violence. They enlighten sexual assault issues, their impact and prevalence causes and ways of prevention into public consciousness and reinvigorated to empower and make aware our society people. In this blog, we will discuss the history of sexual assault awareness month (SAAS), facts and myths, marital rape and prevention.
History: The National Sexual Assault Awareness Month
SAAM is not a new term you are getting aware of but even before it officially started in 1970, awareness and prevention of sexual assault were under concern. Along with all cooperative or civil right movement in the U.S. (around 1940) and any new foundation for social welfare, services from rape crisis centres are ongoing for survivors.
In 1971 the first sexual assault disaster centre came to light which helped a lot in the struggling time of victims by providing resources. Later after seven years, in 1977, 'Take Back The Night marches were held which brought a revolution in fearful souls and it took no time for these events to change into movements in Europe. These movements contributed enough to connect the audience with the pain traces of survivors.
At the end of 1980, The National Coalition Against Sexual Assault (NCASA) decided to choose a particular awareness week and a week in April month confirmed. Till 2000, events, campaign, marches, movements and many other acts (like VAWA, Violence Against Women Act in 1994) awareness activities has been circulating for sexual assault preservation and along with this, the establishment of the NSVRC, National Sexual Violence Resource Center took place.
April is marked officially as the annual campaign month, SAAM (Barack Obama was the first president who officially announced the same in 2009). In 2001, the recognised SAAM campaign coordinated with the National Sexual Violence Resource Center (NSVRC) to finalize the colour (blue) and symbol (teak ribbon) to keep the foundation of Sexual Assault Awareness Preventing Month.
Myth And Facts: Sexual Assault
Sexual Assault is a sensitive topic with which no one wants to part their daily talk. Sexual assault is often a matter of power and control of one and the helplessness of the other. Some of the facts and myths are given as
Oppressions like classism, heterosexism, racism, sexism, and ageism are feeding factors to sexual assault, abuse and harassment.
Myth: Immobility of the victim at the time of the sexual assault is an agreeable response.
Fact: Immobility is not yes but that is the state of tonic immobility also referred to as freeze response.
Myth: Only women or girls get sexually assaulted
Fact: About 15 per cent of men suffer from sexual assault or Vicarious trauma. (80 per cent of sex crimes victims are women).
Myth: Sexual assault or rape doesn't occur commonly.
Fact: In the U.S., within every 107-second sexual harassment which destroys one's life takes place.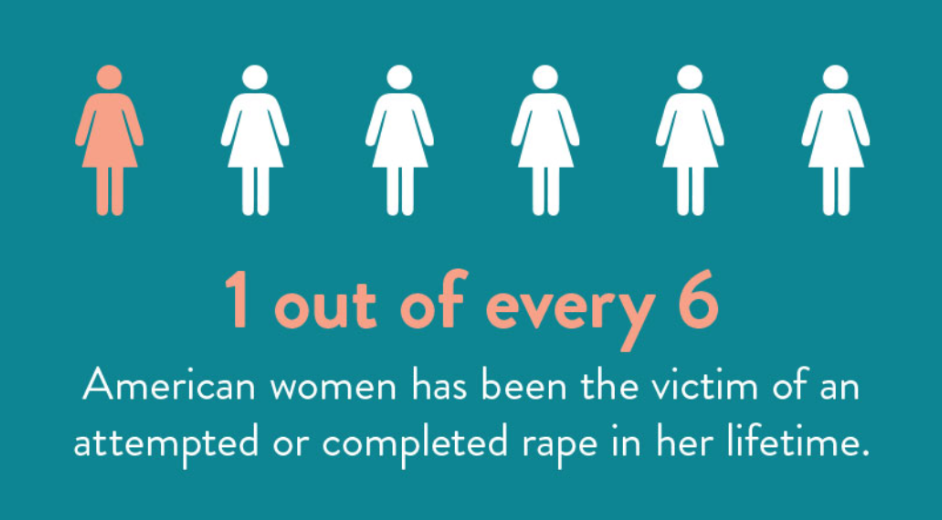 Fact: About half of the sexual harassment cases are in Burkha or Saries.
Myth: Most reported assault cases are false and victims want to take attention or maybe revenge.
Fact: Very less number (2 to 4%) of sexual assaults are false reports. And only 6 out of 100 are reported.
Myth: It is supposed that most Sexual violence or assault takes place majorly outside.
Fact: Sexual abuse, 80 per cent of cases are found to occur at home.
It is found that 83 per cent of disabled women, and 60 per cent of victims under 17 suffer from sexual harassment or abuse. Out of 10, 8 victims knew who was the perpetrator and most of the time they found it to be their friend, coworker, acquaintance, classmate or even partner or spouse (marital rape) too.
Prevention: Steps Taken To End Sexual Assault
A common or circulatory myth is that sexual assault can't be stopped and is not in anyone's hands to control but the fact is, it is controllable.
Spread Awareness
Through annual awareness campaigns, SAAM awareness, webinars, social medial events, radio shows, blogs and so on, we should make the general public aware of sexual assault. All should be aware of national legislation, hotline numbers, upcoming technology, civil rights and so on which help them fight against unwanted intimation.
Providing Education
We should promote the importance of everyday consent, bystander intervention, correcting harmful misconceptions, and healthy sexuality through education. We all should make this world such for survivors so that he/she does not hesitate to take help from an unknown source and can openly ask for help.
Aim Of Expanding The Supporters
To support survivors, stand up to victim blaming, shut down rape jokes, and practice healthy communications with children we all need a strong and selfless audience. This helps survivors of sexual harassment to get out of shameful thoughts and freely let this world acknowledge his/her uncomfortable situation.
-ASHU RANI
Must read: click here