Our undertakings
Journey So

Far
Since its inception, SKCF has widened its dimensions and has worked on numerous other issues apart from providing free education. We recognize that apart from education, food and clothing are also essential to dignified living, therefore we run various projects to realise these needs. 
Since 2017
Project Aashray
Hunger, poverty and malnutrition create food insecurity in people, which can cause severe issues in their health and development. According to the FAO's 'The State of Food Security and Nutrition in the World, 2020' report, India has 189.2 million undernourished people. Aashray is an effort to bring positive changes in the number of people that go hungry on a daily basis.   So far, we've successfully distributed over 50000 meals.  We aim to create an environment, where lack of education and improper health doesn't hamper one's goal to achieve their dream. SKCF, thus, strives to bridge this divide. 
Covid-19 Ration Relief:   People were in a lot of misery in the early days of the lockdown, when the fear of the virus and uncertainty had placed all businesses and work on hold indefinitely. We recognised the need for fast action and, with the support of our brave volunteers, were able to arrange 70-100 ration packets. These packages were delivered with the intention of providing enough food for a family to last at least 15-20 days. SKCF has successfully executed multiple food and ration drives while adhering to all government health and safety regulations during this challenging phase.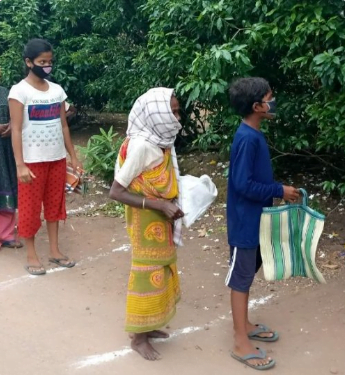 Help relief in West Bengal: In May of 2020, Cyclone Amphan slammed the Bay of Bengal, damaging thousands of dwellings. Mr. Subhayan Goswami, an ex-volunteer, approached SKCF for assistance. We raised money for a food drive for the victims of the hurricane. Mr. Subhayan Goswami and his friends organised a successful food drive, providing food packages to 100-150 needy families. The food was prepared with utmost care and was distributed with equal precautions as well. 
Rajma chawal distribution: Over 500 packets of Rajma Chawal were supplied, along with clean water, to meet people's nutritional needs. The quality of the food prepared, as well as the type of distribution and packaging packages utilised, were given top priority. 
Since 2018
Project Clothes Bring Smile
Clothing, shelter, a healthy environment, food, and education are all basic human needs. It is critical to guarantee that everyone has the opportunity to assert and exercise these basic rights. Volunteers from SKCF try their hardest to meet the fundamental requirements of the impoverished, all while adhering to the same principle. Here at SKCF, everyone believes that a student can learn well only when he gets to eat proper food, wear proper clothes, drink clean water, etc. Taking into account the basic necessity of clothing, SKCF has done multiple cloth donation drives since the initiation of this project. With the generosity of our donors, we have been able to provide customised sweaters to our students as well. We have donated clothes suitable for men, women, and children in and around Delhi on various occasions.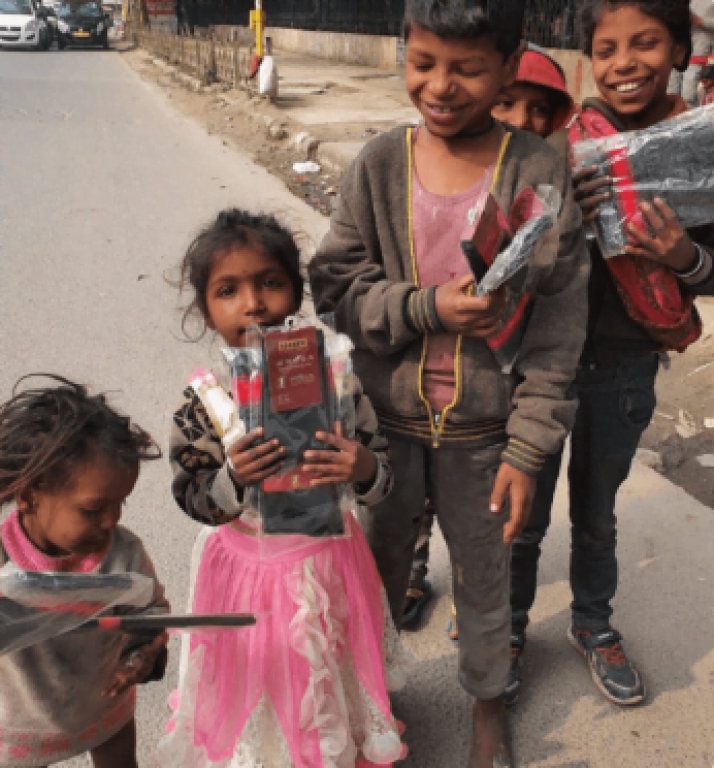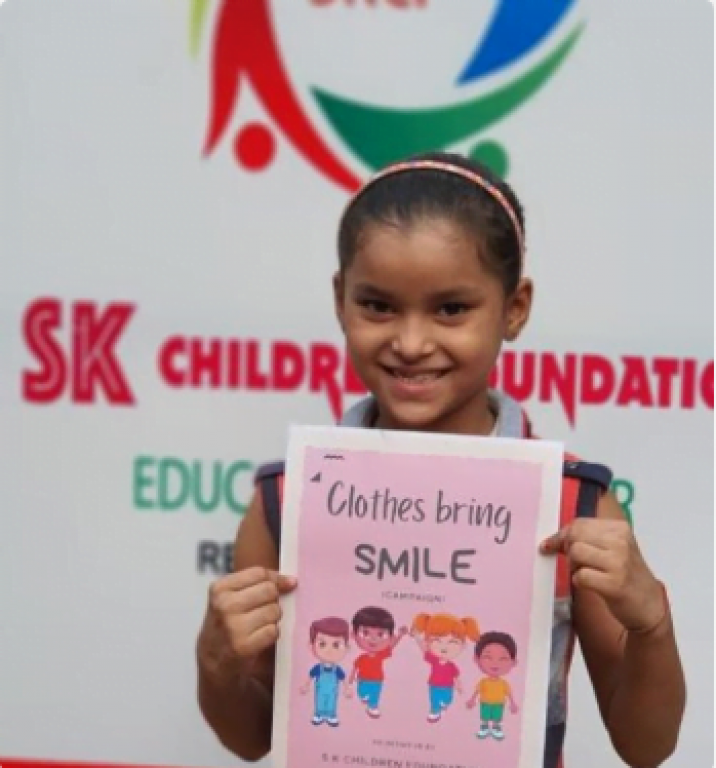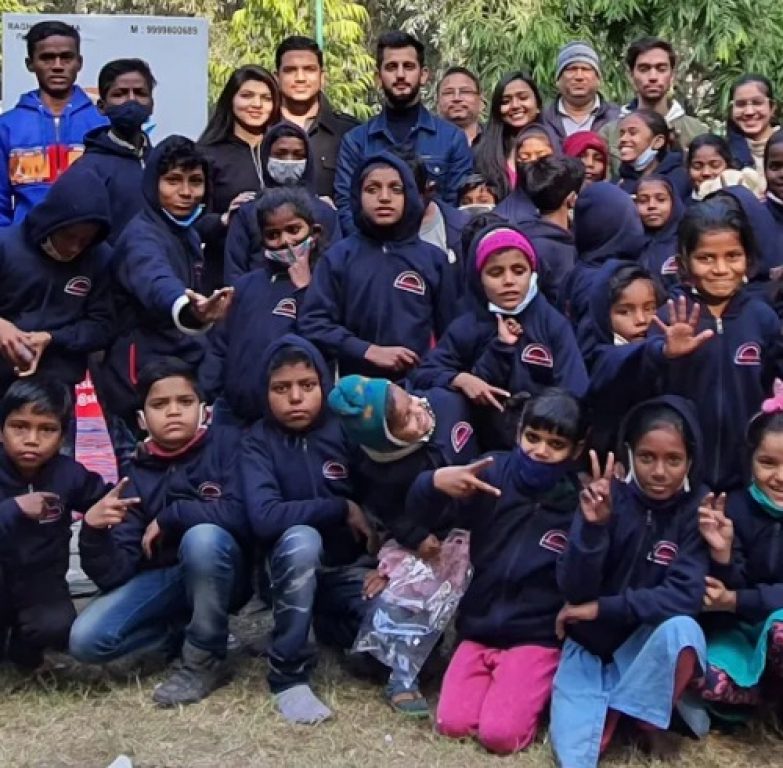 Women empowerment is a long process that has been overdue for centuries. 
It was started to help women achieve more control over their lives and make use of the resources that they have been denied access to. Only a thorough debate could put an end to this deprivation. 
With that in mind, SKCF organised a sanitary pad distribution drive in a number of locations.
It is an important aspect of the development of femininity, and it is thought to have a direct impact on self-confidence. The motivation was fueled by the soul and the unstoppable energy that resides inside every woman, as well as a commitment to the well-being of all. We are commencing the quiet and tabooed dialogue about menstruation through the distribution of sanitary pads. 
Since its inception, SKCF has come a long way. Our scope of work has expanded tremendously along with our ever-growing reach. Although we started out with an aim to provide quality education to the underprivileged children, at present we are shouldering multiple other projects efficiently. Our sphere of support to the lower strata has enlarged and today we work not only to provide them with education, but also with food and clothing. We did not stop even in the time of the pandemic. In fact, our efforts have doubled with the help of our dedicated volunteers.
Khalsites of SKCF is a promotional team of SK Children Foundation. We work to spread the cause of our not-for-profit organization and have recently launched a new project. 
Launched on 10 June 2021, Serving Stray Animals or SSA is a project aimed at providing proper nutrition to stray animals that have been adversely affected during the second wave of the COVID. 
SKCF recognizes and upholds animal rights. And it is no hidden truth that stray animals are currently torn apart between human cruelty and pandemic. To reduce their present trouble, Khalsites have initiated project SSA. 
Since the initiation of this project we have already fed 100+ stray animals including dogs and cows. 
Despite feeding being the main goal of SSA, our volunteers have also rescued dogs and a bird during heavy rainfall and ensured that they get the required medical attention. We are committed towards taking this project forward. We wish to continue serving and feeding stray animals. 
As an organization that holds every life important, we look forward to expanding the scope of Project SSA and bringing more animals under its scope. 
Since 2020
Project Sarva Shiksha
The initial months of 2020 were difficult for everyone. The lockdown has had a huge impact on our life. We wanted to restart classes, but the safety of our students has always been a top priority for us. That's when we came up with the Project SARVA SHIKSHA. We decided to start virtual classes because on-ground classes were on hold. SKCF adopted this measure without hesitation in the early days of lockdown. In such unpredictable and trying times as these, virtual classrooms have certainly been the bearer of knowledge.
Our teachers use diagrams and PowerPoint slides to help the students understand what they are learning. Regular tests, assignments, and periodic exams are used to monitor and improve student learning.
On Sundays, activities are held to sharpen their outstanding talents and extract their hidden potential.
With the help of 100 teachers, we have digitally taught over 500 students to date. Currently, 23 teachers are teaching 50 students virtually. Google Meet and Zoom are the platforms for our online classes.
We also run several initiatives as part of this effort, such as stationary distribution drive and mobile phone distribution drive. This allows students to have easier access to education.
To ensure that no child is left behind, we currently educate children from all over India.
Our dedicated team of volunteers has enabled us to expand our vision to ten states throughout the Indian subcontinent. Their tireless efforts have resulted in free physical and digital outreach and aid to underprivileged children.