~Madhushekhar Mallarapu
In history, many people created special places for them. And we remember them as legends. In India, there are many such inspirations whom we can look up to. Olympic games have been held for centuries. They are symbols of peace and cooperation between nations around the world. And participating in and winning those games is a dream come true for many athletes around the world. Mirabai Chanu is such a remarkable athlete who represented India in "Tokyo Olympics". She won a silver medal and brought unforgettable pride and honor to our country. She is the first Indian women athlete to win a silver medal in weightlifting.
Background and Early Life:-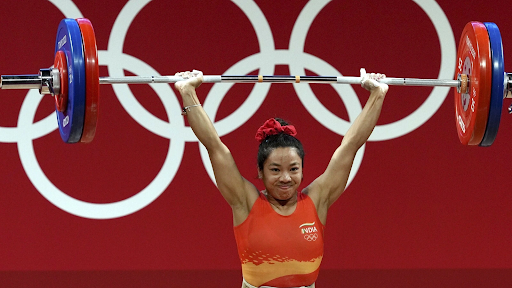 Saikhom Mirabai Chanu was born on 8th August 1994, in Nongpok Kakching, Impal, Manipur. She is a follower of Sanamahism. She was backed by her family, who identified her strength and desire for weightlifting. She used to carry huge firewood blocks, which were found very hard to carry by her brother. She trained from an early age in Manipur Sports Academy and Vijay Sharma is her coach. With the help of her coach, she achieved amazing feats. During her training, she hitched rides with truck drivers carrying sand.
After winning the silver medal at the Tokyo Olympics she invited those truck drivers to the launch and as a gesture of gratitude she touched their feet. 
Career 
She won many awards in many competitions. She won 2 silver medals, 2 gold medals, and 1 bronze medal in her career.
Mirabai Chanu started her career with a bang by winning a silver medal at the Glasgow edition of the commonwealth games in the 48 kg weight category.
In 2017, she won the gold medal at the world weightlifting championship in the category of 48 kg and lifted 194 kg in total (85 kg  snatch and 109 kg clean and jerk).
In 2019, she won India's first gold medal by lifting 201kg (87 kg snatch and 114 kg clean and jerk) in the commonwealth games.
In 2021, she won a bronze medal at the "Asian weightlifting championship".
Rio Olympics
Mirabai Chanu was selected for the Rio Olympics in the women's 48kg category. But, she could not lift weights in any of her three attempts, in both clean and jerk sections.
Tokyo Olympics
Chanu won the silver medal at the "Tokyo Olympics" in the 48 kg weight category. And lifted 202 kg, and became the first Indian woman to win a silver medal and the second Indian woman to win an Olympic medal after  Karnam Malleswari. She lifted 115kg in the clean and jerk. She was awarded Rs.1 crore by the Manipur Chief Minister. After, she said that she was honored to carry the legacy of Karnam Malleswari, her predecessor.
Awards
She was honored by the "Government of India" by awarding her with Padma Shri. And also,  awarded with the "Major Dhyan Chand Khel Ratna" award.
Must read: https://skchildrenfoundation.org/how-chak-de-india-turned-real-in-tokyo/