REASONS OF LAYOFFS
Global layoffs or Mass layoffs are usually the terms used for strategically planned removal or elimination of a large number of workforce or personnel from any organization to increase its effectiveness. There are many reasons for the same, like Cost cutting, fear of recession, etc.
Cost Cutting is considered one of the main reasons for global layoffs as companies are not making enough profit to cover their expenses so they choose cost cutting.
Fear of economic recession is another reason for global layoffs companies are apprehensive of potential economic recession with inflation soaring in most parts of the world and According to IMF( International Monetary Funds), the GDP( Gross Domestic Product) growth in both 2022 and 2023 seems gloomy because of the pandemic and ongoing Russia-Ukraine conflict.
Layoffs are trending these days on social media as companies like Google, Amazon, and Microsoft have expelled a lot of their employees citing the economic downturns as their decision. These sudden layoffs have a disastrous impact on an individual's mental health as a person's self-esteem is negatively affected during a layoff and begins self-doubting.
IMPACT ON EMPLOYEE'S MENTAL HEALTH
The employees who survive a layoff are termed as the survivors and after their layoff, they do experience some negative post-layoff feelings or emotions like stress, anger, frustration, declining morale, etc but the intensity and effects of these feelings or emotions vary from individual to individual.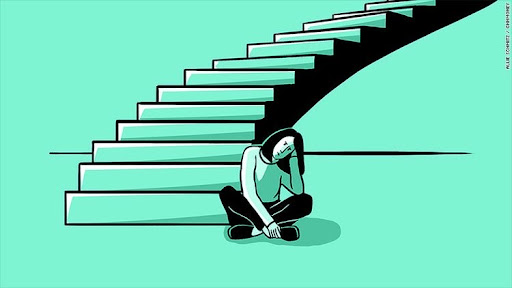 After the layoff, an individual also experiences feelings like shame and failure which eventually affects a person's social relationships and family system causing a destructive impact on a person's social life.
Some research shows that unemployment is linked with anxiety, depression, frustration, and loss of life satisfaction which affects a person's mental health badly. Also after a layoff, an employee's general trust in long-term work may decrease, reducing expectations upon rehire.
Layoffs also result in future behavioral conflicts among co-workers and management because layoffs in a workplace often leave a former employee less inclined to trust future employers. It does not only affect the mental state of the employee who was forced to leave the job but it also impacts the trust of new employees who will be recruited in further years.
It builds a sense of mistrust among the people who are looking forward to working in the corporate sector. In countries like India where jobs are really hard to find, the corporate sector gave relief to people. But as per the trend, it's really hard to look at the corporate sector and see it as a secure job. This will only create insecurity and a state of anxiety among people.
According to Anna R. an ex-Google employee
"Unfortunately, I am part of the 12000 people laid off from Google today. After 7.5 years I opened my laptop today to find out that I no longer have crop access and a very long boarding-off checklist to take care of.
While this is not the way I ever thought I'd leave Google, I'm optimistic for the future and am #opentowork in the US.
I'm grateful for the past 7.5 years and am looking forward to new opportunities ahead."(Source-LinkedIn)
CONCLUSION
The immediate and sudden financial hardship of a layoff can affect both the physical and psychological well-being of an employee and layoffs could also result in long-term impacts such as unemployment of up to six months or longer and the employees may also experience hopelessness in finding new job opportunities. But as it is rightly said by Albert Einstein "In the midst of difficulty lies opportunities. "So one should never lose hope and should always look for the next better opportunities.
VANSHIKA SOROUT
Must Read: https://skchildrenfoundation.org/action-for-animals-2/