INTRODUCTION
In the digital age, where information flows seamlessly across various platforms, the media has Demerged as a powerful force that shapes opinions, influences decisions, and exposes the truth. However, as the landscape of this tool evolves, so too do the ethical challenges it faces. Present-day media, while undoubtedly playing a crucial role in disseminating information, has been increasingly accused of breaching ethical boundaries by intruding on privacy, leaking sensitive information concerning national security, and pursuing sensationalism at any cost. Media ethics have become extremely questionable these days.
THE INVASION OF PRIVACY: A SLIPPERY SLOPE
Respecting an individual's privacy has been a cornerstone of ethical journalism for generations. Yet, the rise of digital media and the insatiable demand for attention-grabbing content has led some media outlets to prioritize sensationalism over privacy concerns. The invasion of celebrities' personal lives, the publication of private correspondence, and the dissemination of explicit content without consent have become commonplace. In this quest for clicks and views, media ethics seem to have taken a back seat.
Notable instances include the unauthorized publication of private photos and videos of individuals, often accompanied by salacious headlines. Such practices not only infringe upon the fundamental right to privacy but also perpetuate a culture of cyberbullying and harassment. The blurred lines between journalism and sensationalism can have far-reaching consequences, tarnishing reputations, damaging mental health, and eroding public trust and media ethics.
NATIONAL SECURITY AND THE DANGEROUS GAME
While their role as a watchdog is vital for a functioning democracy, it is equally important to strike a balance between transparency and national security. In recent times, however, the thirst for breaking news has sometimes led to the release of classified information without proper scrutiny. This jeopardizes not only ongoing investigations but also the safety of citizens and the integrity of the nation.
Instances of media outlets publishing leaked classified documents or revealing sensitive operational details of law enforcement and intelligence agencies have raised significant concerns. While there may be instances where exposing such information is in the public interest, the ethical responsibility lies in discerning when to withhold information that could have severe implications for national security.
THE PITFALL OF SENSATIONALISM AND CLICKBAIT
The digital age has ushered in an era of intense competition for readership and viewership, leading to the proliferation of sensationalist and clickbait content. The allure of high click-through rates and ad revenue has led some outlets to prioritize catchy headlines and exaggerated narratives over factual reporting compromising media ethics ultimately. In this relentless pursuit of attention, they risk sacrificing their integrity and the public's right to accurate and balanced information.
Sensationalism not only distorts reality but also fuels the spread of misinformation and fake news. This can have dire consequences, influencing public opinion, contributing to social division, and even inciting violence. In an age where misinformation spreads faster than ever, ethical journalism must strive to be a beacon of truth amid the chaos of sensationalism.
TREADING THE ETHICAL PATH FORWARD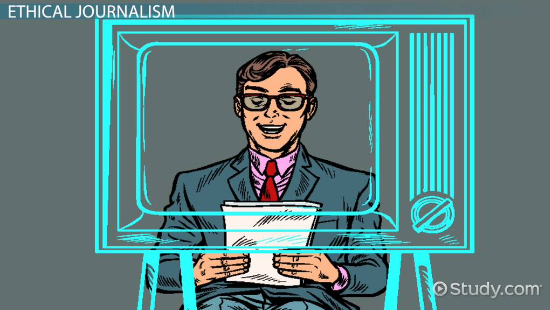 In a world where information plays a pivotal role in shaping societal narratives, restoring ethics to the forefront is an urgent imperative. As media consumers, we have a responsibility to demand and support ethical journalism that respects privacy, adheres to stringent fact-checking standards, and places the public's interest above sensationalism.
These organizations must recognize the value of ethical reporting and invest in training their staff to navigate the complexities of privacy and national security. Fact-checking protocols, responsible sourcing, and a commitment to presenting a balanced perspective are vital components of ethical journalism that can counteract the tide of sensationalism.
CONCLUSION
The media's power to inform, educate, and influence is unparalleled, and with this power comes great responsibility. While present-day media has shown remarkable achievements in connecting the world and uncovering hidden truths, the erosion of media ethics threatens to undermine its credibility and societal impact.
As consumers of content, we must be discerning in our choices, supporting outlets that uphold ethical standards and responsible reporting. Media organizations, in turn, must recommit themselves to the principles of transparency, integrity, privacy and the public good. Only by recognizing the ethical pitfalls and actively working to avoid them can the media regain its role as a trusted guardian of democracy.
In a world where privacy, national security, and truth are at stake, ethical journalism must rise above the noise of sensationalism, misinformation, and intrusion. It is through the collective efforts of media professionals, consumers, and society at large that we can ensure a media landscape that respects ethics, safeguards privacy, and upholds the pillars of democracy.
-BHAWINI SRIVASTAVA

Must Read: WOMEN IN WAR AND CONFLICTS: VULNERABILITY AMIDST MASCULINIZATION AND FEMINIZATION IN 21st CENTURY