~MS Harshitaa
Biography
:
Nearly 200 nations and people worldwide participate in the Olympics. Lovlina Borgohain brought Laurels to the country by participating in the Women's welterweight event. She is a hard-working woman and a bronze Medalist in the Tokyo Olympics. 
Family Background:
Lovlina's life wasn't a piece of cake to walk in. Born on 2nd October,1997, she hails from Assam. Her father, named Tiken, runs a small business. He worked so hard for her child, Lovlina. Her blood sisters named Licha and Lima, are national-level Kickboxing players.
Lovlina completed her high school in Barpathar Girls High School. She started as a kickboxer and later became a boxer. She practiced and trained, and learned all the tactics of boxing.
Early Life And Career
:
In 2018, after so much struggle in the selection process , she participated in the commonwealth games, but she lost in the quarter-finals to Sandy Ryan. 
But still, Lovlina didn't lose hope. She tasted the fruit of success in the upcoming events. Hard Work always pays off and Lovlina is a very good example of this.
After this, she was open to the inaugural India Open Championship, where she won a Gold medal.
She won a bronze in Asian Boxing Championship. With that lots of praises, and medals fell at her feet. 
Awards
:
Bronze medalist in AIBA Women's World Boxing in  2018 Championships

Participated for the second time in 2019,  AIBA Women's World Boxing Championship, won a  bronze.

Oceania Boxing Olympic Qualification Tournament, qualified for the Olympics 

At the 2020

Tokyo Olympics,

after qualifying the preliminary round, she entered the quarter-finals, wasn't lucky enough she lost to Busenaz Surmeneli, and settled for a bronze.
Tokyo Olympics
: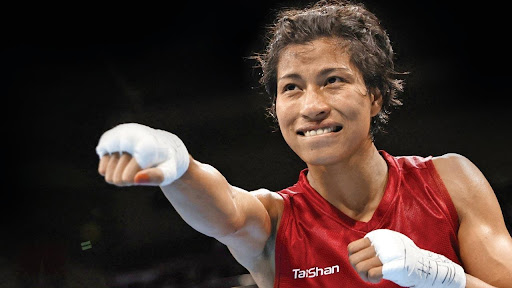 Busenaz Surmeneli (Turkey) punches against  Lovlina Borgohain (India) in the Women's Welter semi-final in Tokyo 2020 Olympic Games. After a tough defeat with World champion Busenaz Surmeneli of Turkey,  Lovlina settled for a bronze, in a women's 69kg semifinal bout of the Tokyo Olympics on Wednesday, August 4, 2021.
She gave her best shot, with all her efforts but still she lost, and brought back bronze to home.
Must read:   https://skchildrenfoundation.org/mirabai-chanu-the-rising-star