Capitalism has left an indivisible influence on our daily lives. It has monopolized the economy by creating an abstract world of alternatives for everything with its school of thought. Still, it has also influenced other elements of life, such as education, which is a necessity in life. It has generated parallels, such as the tuition industry, to help and monetize education.
Taking extra lessons to improve grades has become a mantra for most students in the current generation. The coaching institutions have increased students' potential in various ways, such as assisting them in catching up on their academics if they have missed school due to medical or other reasons.
According to NSSO, 1 out of 4 children in India take private tuition. India's tuition industry will reach 225 billion US dollars by FY2025. The coaching institutions guarantee the selection of students enrolled. The problem arises when these institutes guarantee the success of thousands of students in a few hundred seats of good colleges.
However, in another context, it has led to students taking for granted the instruction they receive at school because they have a backup or "alternative" to school in the form of coaching sessions, which has jeopardized the integrity of educational institutions. Besides, students spend extra money to learn the same topics as in school and do not use their time effectively.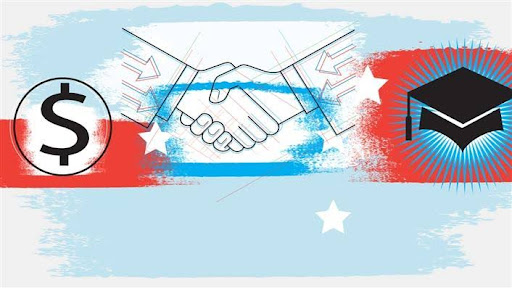 AN IN-DEPTH BREAKDOWN OF THE TUITION INDUSTRY
Amid all this commotion in competitive education fields, some educational institutions have ensured their cost-benefit analysis by joining forces with some private coaching intuition.
The official website of Rao IIT Academy has a list of all their Mumbai tie-ups.
"We had only rented out our classrooms to Rao IIT Academy for coaching students for the IIT entrance," says Harsha Mehta, principal, SIES, one of the institutions on Rao's list.
"Though the authorities see this collaboration as time-saving and helpful, in reality, it seems this isn't the case. We end up spending a lot more time and money," says Pearl Gonsalves, a student. "Tuitions give students a reason not to pay attention in class since all the learning is done there, so they don't value what has been taught in school," says Lorraine D'mello, secondary teacher, at Fr. Agnel High School.
Still, the private coaching center segment is dynamic in its own right because it allows teachers to earn more money than their wages. Prerna Das (real name altered) left her teaching profession to start her private coaching program.
We can give each student a lot of one-on-one time since the timetable is flexible, and the remuneration is better because the students are fewer in number.
Aside from that, the coaching class is unique. "We take things seriously here," she explains. Unlike other institutions and universities, every lecture requires dedication and quality "since we are responsible for the pupil's achievements." "It's the only way we'll be able to keep the company going," she says.
DOES EDUCATION WIN IN THE END?
Since the main point of the situation gets buried in the undertone of the disputes and is commonly neglected in this competitive period of money-making and out-growing your alternative better(s), the answer to this question is crucial.
India is a middle-income country where 80.6 million people live in extreme poverty. The top 10% population has a 57% share of the country's national income and the bottom 50% population holds only a 13% share. In such a situation, industrializing education is not just wrong but equivalent to crime. It is not feasible for children from humble backgrounds to attend tuition. Many students feel like they are not getting proper education if they don't go for tuition. This creates an inferiority complex in them.
So, the essential point is to make quality education more accessible to all people, rich or poor. It should be about prioritizing value education and what it is worth, rather than monopolizing it through deceptive financial maneuverings or delivering it as a service to others to monetize their settings and convert them into the industry.
-BY ASRA MALIK AND SHREYA PANDEY
Must Read- https://skchildrenfoundation.org/hijab-a-matter-of-choice/