Drenched in the brilliance of lights, Diwali marks the triumphant return of Lord Rama to Ayodhya, symbolizing the triumph of good over evil. Beyond its mythological roots, this festival is a spirited celebration of prosperity and the beckoning of Goddess Lakshmi for abundant growth in homes and businesses. Amidst the jubilation of love and togetherness, where gifts are exchanged and joy is shared, it's important to recognize that not everyone experiences Diwali in the same radiant way.
For many underprivileged children, the joyous festivities of Diwali remain elusive, overshadowed by the financial constraints that limit their families. In a heartwarming initiative, SK Children Foundation has stepped forward to bridge this gap, transforming Diwali into a memorable and meaningful celebration for these children. Together, they illuminate the lives of those who need it most, turning the Festival of Lights into a beacon of hope and happiness."
DIWALI CELEBRATIONS UNVEILED BY SK CHILDREN FOUNDATION'S VOLUNTEERS
In the opulent confines of RD's Fiesta Banquets in Janakpuri East, the SK Children Foundation orchestrated a spectacular Diwali celebration on November 7, 2023. The groundwork for this momentous event commenced a month prior, as a cadre of dedicated volunteers enthusiastically rallied behind our core team. Their collective efforts were pivotal in orchestrating one of the grandest affairs of the year.
This meticulous preparation involved crafting the comprehensive schedule and key highlights of the celebration. Volunteers passionately engaged in tasks ranging from extending invitations to children, their families, and NGOs to harnessing the power of word-of-mouth promotion. The objective was clear: to ensure that the festivities extended beyond our foundation, providing an inclusive opportunity for all to revel in the joyous occasion.
DISTINGUISHED GUESTS ILLUMINATE THE OCCASION
Distinguished individuals graced our Diwali celebration as esteemed guests. Mr Abhishek Singh, an IAS Officer, was honoured as the Chief Guest, while Dr Shashi Sharma, our Guest of Honor, unfortunately, couldn't be present due to unforeseen circumstances. Adding to the luminosity of the event were Mr Balbir Bora, the Founder & CEO of Vincular Testing Labs, and Mr Sahil Goyal, the MD of Goyal Iron & Steel Traders.
Their presence ignited an unparalleled enthusiasm among our children, as these eminent personalities delivered speeches emphasizing the virtues of good character, resilience, and determination. The profound impact of their words resonated not only with our children but also left an indelible mark on our dedicated volunteers.
In a gesture of communal solidarity, SK Children Foundation took the opportunity to acknowledge and honour the relentless efforts of other NGOs dedicated to societal improvement. The guest list included invitations to the Vishalakshi Foundation, unfortunately, unable to attend, as well as the Umeed Foundation, Ritva, Vrikshit Foundation, and Warriors without Cause. This collaborative gathering underscored the shared commitment to creating a positive impact on society, fostering a sense of unity and purpose beyond individual endeavours.
SPONSORS PAVED THE WAY FOR JOY
The resounding success of our Diwali celebration is owed in large part to the invaluable support of our sponsor partners—Gianis, Realply Industries, Klysta, and Goyal Iron and Steel Traders. These esteemed collaborators served as guiding lights, infusing the event with joy and happiness for the children of our NGO.
Our heartfelt thanks go to Gianis, Realply Industries, Klysta, and Goyal Iron and Steel Traders for being steadfast pillars of strength. Their generous contributions have not only made this celebration possible but have also left a lasting impact on the lives of the children we serve. We express our deep appreciation for their commitment to making a meaningful difference in society.
Their support goes beyond just sponsorship; it reflects a shared belief in the transformative power of kindness. We are profoundly thankful for their crucial role in turning our Diwali celebration into a source of inspiration and happiness for the children in our care.
CHILDREN STEAL THE SPOTLIGHT IN ENTHRALLING PERFORMANCES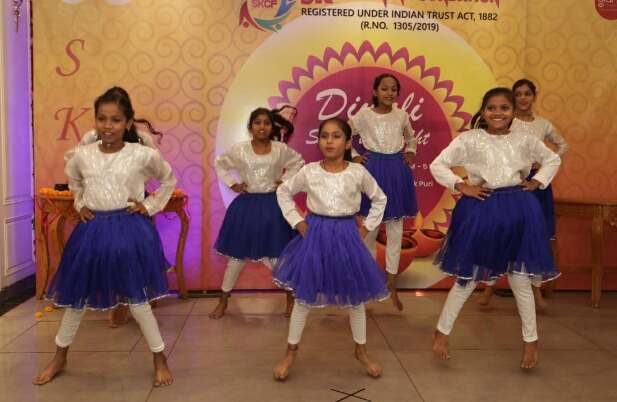 The biggest highlight, however, of the event, was the level of participation by the children. These included various dance performances such as a Marathi-themed dance, a dance on the song- "Badal Pe Paon", and a skit presentation by kids wherein they highlighted the importance of healthy food over junk food.
Children also participated enthusiastically in the games conducted by our anchors. In addition to this, the atmosphere of the venue was filled with melodies through enchanting singing performances by two guest singers- Mr Loop Suchit and Mr Nayan Neog. It was amazing to see children humming the lyrics of various songs that our singers sang.
ACKNOWLEDGING DEDICATION: STAR VOLUNTEERS AND ACADEMIC ACHIEVERS HONOURED
Amidst the vibrant and energetic performances, the SK Children Foundation took a moment to extend heartfelt appreciation to the dedicated volunteers whose tireless and selfless efforts were instrumental in the success of this event. Recognizing their exceptional work and unwavering commitment, the star volunteers of the SK Children Foundation were publicly announced and honoured with well-deserved awards.
In a dual celebration of achievement, we also bestowed accolades upon the academic standouts from our classes. This acknowledgement served not only as a recognition of their current accomplishments but also as a powerful motivator, inspiring these students to persevere and continue their hard work. Medals were awarded to those who had demonstrated outstanding performance, creating a culture of encouragement and achievement within the SK Children Foundation.
UNIFYING JOY AND CONCLUSION OF EVENT WITH SWEET MEMORIES
The major role in making this event a success was that of the audience. More than 500 people came together to celebrate Diwali with our NGO, which includes around 200 kids from our NGO as well as their parents, our volunteers, and their friends and families. And to add to the surprise for the audience, an exciting giveaway was also organized. The names were announced through a lucky draw format by picking up the chits. The winners won exciting gifts such as smartwatches and airdrops.
The program ended on a happy note with everyone enjoying their tasty refreshments and clicking photographs with each other. The success of this event acted as a motivating factor for us to organize more such exciting and enjoyable events in the future where all of us come together and share our happiness with these lovely children.
-MALYA SINGH
Must read- ISRAEL-PALESTINE CONFLICT: YET ANOTHER STORY OF US HYPOCRISY