"Volunteers are people who help an organization grow, expand its wings and fly and we at SKCF are grateful to each and every volunteer. They are not just people, they are family and it is our duty to help them in times of need."
Following the same ideology, SK Children Foundation supported one of their hardworking and extremely determined volunteers with a laptop that she needed but wasn't able to afford because of her family's financial issues.
ABOUT THE VOLUNTEER
The volunteer has been a part of the organisation for more than a year, and she is a gifted student who excelled in her studies along with various co-curricular activities. Despite coming from a low-income household, she decided to assist at the foundation by providing tuition to other underprivileged kids. In addition, she even writes articles for a living as a freelancer to pay for her family's expenses and her schooling. She desperately required a laptop for all of her work. In order for her to work hard and pursue all of her goals without any obstacles in her way, SK Children Foundation sponsored her and gave her the laptop she needed.
A HEARTFELT NOTE FROM HER
She shared her gratitude with the foundation and wrote, "I'm a high schooler who'll begin college this year. I've been associated with SKCF as a volunteer since August 2021. I need a laptop for my work related to writing and further studies. Many times, it gets difficult to manage all the work on mobile. My parents and I tried to purchase one on an affordable budget, but we couldn't do it. Due to some circumstances and emergencies at home, we couldn't save much to make the purchase.
I tried teaching a kid this year, but the fees weren't enough to meet the budget. I've been writing and trying to work with people since 2022. I made an attempt but couldn't meet the requirement. Working with mobile, managing my content and school work got somewhat overwhelming. I started having back pain and headaches. That's when I requested SKCF for help. The laptop is Acer Extensa 15. It is being ordered as it suits the budget and the current requirements. The laptop is being ordered from Amazon. I'm thankful for the support I have gotten from SKCF. I hope I can return it by contributing to the NGO and helping kids."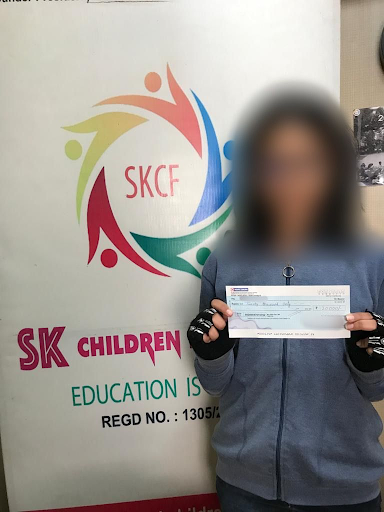 SK CHILDREN FOR A GOOD CAUSE
The SK Children Foundation always tries to give back to society in whatever way possible. Whether it is assisting children in the NGO, a volunteer, or anyone in society who has requested assistance. We at SKCF always believe that this foundation is like a family and every volunteer is a family member and we can't see our family members in trouble. And that is why we always try to help them in whatever way we can to make them feel comfortable.
The foundation has always believed in making this society a better place for everyone, whether it is underprivileged children or animals. Only a few weeks before, the foundation conducted an animal drive to help stray animals. In a similar manner, SKCF always tried to help society in whatever way possible. The NGO has never taken a step back.
 -Vanshika Sorout